Heartland Highland Cattle Association
Highland Cattle FALL Auction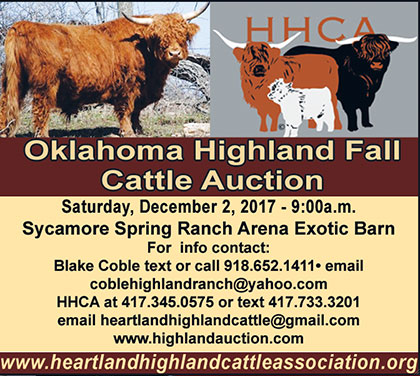 FALL HIGHLAND CATTLE AUCTION IN OKLAHOMA 
Where:  Sycamore Springs Ranch Arena Exotic Auction Barn
When:Saturday, Dec. 2, 2017  Time:  9;00 AM
Location:  5 1/2 miles South of Locust Grove, OK
Selling Registered, Unregistered, and Crossbred Highlands Bulls, cows, heifers, cow/calf pairs
If you are looking for Highland beef bulls to finish, here is the sale to attend
 For  info contact:  Blake Coble text or call 918.652.1411 
email coblehighlandranch@yahoo.com
HHCA at 417.345.0575 or text 417.733.3201
email heartlandhighlandcattle@gmail.com
www.heartlandhighlandcattleassociation.org
The Heartland Highland Cattle Association was formed in 1994 to promote the Highland Cattle Breed. After displaying Highlands at Agricultural events and county fairs, it was evident that very few people in the southern states were familiar with the Highland Cattle Breed.
The purpose of the Organization is to provide information and support to the people who are interested in Highland Cattle.
We provide information that is especially useful to the person who is just getting started in Highland Cattle, the small producer, the beef producer and all natural meat producers.
The Heartland Highland Cattle Association gives it members many benefits to help them be successful Highland breeders and marketeers.
The HHCA provides:
* a website at www.heartlandhighlandcattleassociation.org
* a FREE 3 month ad in the Classified Ad section of the website
* 3 month additional website ad at $10 for members
* HHCA newsletter published three times per year
* One free yearly ad in the HHCA newsletter
* Yearly business card ad on webpage for $25 for members
* Membership name on Webpage directory
* Yearly Membership directory
* Linking to HHCA website at no cost
* Networking to sell or purchase animals available by contacting HHCA Secretary and placing name on list
* Annual membership meeting/gathering first Sat. in March
* Annual Highland Cattle Auction in the spring
* Beef Marketing page on website for members name
* Updated weekly Classified ad page
* Sponsorship of Farm Field Days or other Promotional Highland Events
* Annual July 4th HHCA picnic
* Free informational packet to referrals inquiring about Highland Cattle
* Mass emails of upcoming events
* Free promotional information to members displaying at events
* Yearly Highland Seminar
* Highland merchandise available for sale on website
* Paypal available on website for purchases and paying dues
* Check us out on Facebook
* Tax deductible dues; (HHCA is a non-profit association)
Membership is on a twelve month basis and is $25.00 per year.
Start your membership today! Click Here
http://www.heartlandhighlandcattleassociation.org/uploads/images/membership_application.pd